​Can any business use MeshMail?
Yes. Any business, no matter how big or small can use this product.
​
​Will I have to download anything?
There is nothing to download in order to use this product. MeshMail is a web based product that can be used anytime, anywhere.
​
How do companies use MeshMail?
MeshMail can be used for training, marketing, sales follow up, support services and for human resources just to name a few. The possibilities are endless.
​
What media can I use?
Currently you can use mp4 and wmv files for your video along with YouTube. We accept most popular image file formats for the backgrounds and headers of your templates. We let you make it your own. Any type of file you can attach to an email, you can attach to a MeshMail, except we allow larger file sizes.
​
Will it take long to load my videos?
On average it might take a little bit longer than most video sharing websites. However, because we pre-cache our videos this means there won't be any buffering when the email is received and viewed. It makes for a more pleasant viewing experience.
​
Are there any additional fees?
No. We don't charge by the view. We don't charge storage fees. We don't charge template change fees. We don't charge administrative fees and we don't charge any set up fees.
​
Can I use my regular email address?
Yes. The email address you use should be one you are currently using to communicate with clients, employees and associates. This is the email address your recipient will see in their inbox.
​
Powered by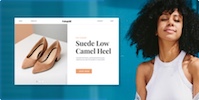 Create your own unique website with customizable templates.