Video is important. Let us break it down for you.
It is estimated that by 2017, video will take up to 69% of all consumer traffic on the internet.
¹
Let us give you a better way to utilize this shift in technology. MeshMail is a powerful yet simple video email and communications tool that any business or organization can use to better utilize the power of video. There is nothing to download, no intrusive technology, just you and your content. People we talk to everyday discover new ways to use MeshMail to better showcase their brand and their message.
Who is the best messenger of your message? The number of accounts means how many email addresses you can use to deliver your message. A video message from the CEO might have a bigger impact than say someone from sales or HR. The messenger helps create a powerful message and a video message can have an even more powerful impact! The number of email addresses you sign up determines how many accounts you have. We are flexible and here to help you make the most powerful impact possible to your desired audience. If you need suggestions or examples of the types of companies we work with try our live chat.
Whatever email address you sign up with is the email address your video messages use to be delivered. So, do you want your HR messages to be sent from a sales email address? We didn't think so. Adjust your users as needed, and if you need some suggestions or help, try our live chat.
Are you and Independent Business Owner or DSO that is thinking about signing up more than 50 users?
We can customize our services and prices to fit your needs.
---
MeshMail was engineered with one of a kind administrative tools that work to better manage large numbers of users.
---
Messaging Features

Record video within the MeshMail composer, or upload existing videos, YouTube content or photo slideshows
4 Templates to use whenever you want
Unlimited background uploads
The ability to add and customize up to five call to action links on each message
Upload and add up to six file attachments to your message. Several different file types are accepted
Add your businesses logo for better brand awareness
Autosave to drafts helps keep you from accidentally deleting a message you were working on, great for on the go creation

Account Features

Upload and manage all of your email and business contacts. One at a time or through a CSV file, whatever works for you
Create and segment mailing lists to direct your message to the right people
Upload and manage your media library. There is no limit on size
Control your messaging in your video message library. Review, copy and edit old messages to resend again or if you need to end a message, simply delete when you're ready
Analytics and data are collected on each video message you send, like open rates and forwards, to give you a better sense of your email's performance
Our customer service representatives are
ready to help you with whatever you need
and our product Knowledge Base is there for those do-it-yourself-ers.
---
Want to see something personal?
---
Here are some examples of our templates to inspire you
Powered by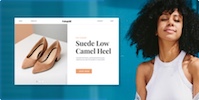 Create your own unique website with customizable templates.